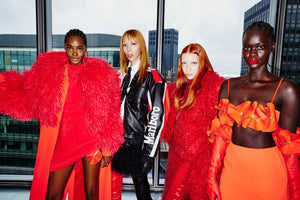 Discover Statement New Season Looks
For Autumn-Winter 2023, David Koma stages a study of the elements characteristic of twentieth century glamour: the seductive impact of a red lip, a glossy nail, a cut-glass heel, and a satin lapel. Embodied by legendary actor Marlene Dietrich – whose radical dress sense interwove the feminine and masculine symbols of desire – the collection suspends itself between the grammar of two revolutionising eras: the icon's 1930s heyday and the 1960s continuously present in the work of David Koma.
Sense-beguiling colours instinctively connected to glamour paint the collection: glossy lipstick red, regal ultraviolet, alluring lilac and lavender, and electrifying tulip yellow. Identifying dress codes and silhouettes that continue to resonate in our glamorous conscious, an interaction between the traditional evening wardrobes of women and men unfolds.
The tuxedo – a Marlene Dietrich signature – is magnified to oversized proportions or slimmed down to fitted longline manifestations. The classic men's shirt is twisted into erotic shapes: a mini dress in shirting fabric, a shirt body in cotton, a shirt gown in silk. Masculine influences transition into a high-octane glamour native to 1930s' vaudeville. Cut in asymmetric silhouettes that play with the idea of the reveal, tops, skirts and dresses investigate the optical and tactile textures of glamour; and are adorned with bouncing plume trims, effervescent ruffles and hand-cut leather flowers glossed as if dipped in red nail varnish.